SIG SAUER P322 22LR PISTOL
Introducing the new P322. With an unprecedented 20+1 round capacity, the new P322 gives you 21 reasons to love 22.
P322 was designed and built entirely in New Hampshire by SIG SAUER and is loaded with premium features, such as an optic-ready removable rear sight plate that allows you to easily add a ROMEOZero red dot optic without the use of adapter plates. The P322 also includes a threaded barrel adapter, making it suppressor ready right out of the box, and with its ambidextrous controls, interchangeable flat and curved triggers, and fiber optic front and rear sights, it is the most advanced 22 pistol in its class.
In a concealable rimfire pistol designed from the ground up, the Sig Sauer® P322 Semi-Auto Pistol has an incredible 20+1 round count. The polymer grip module has a familiar design with a beveled magwell and an integral accessory rail for a light or laser device. The 322 comes standard with a flat-faced trigger shoe as well as a traditional round trigger shoe. The end user can easily swap out both trigger shoes. This Sig 322 is fully ambidextrous, with an ambidextrous manual thumb safety, ambidextrous slide release, and reversible magazine release.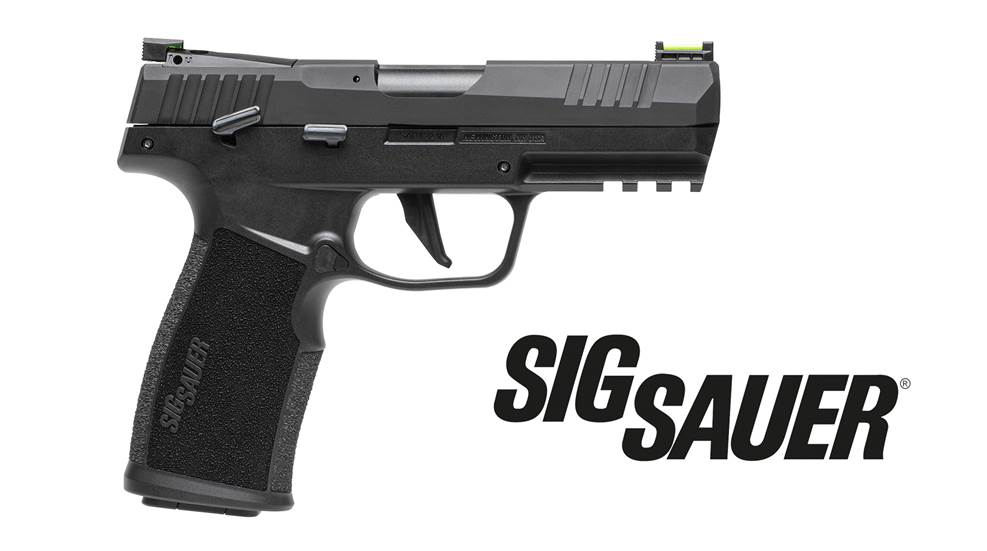 The SAO hammer-fired action on the P322 is completely enclosed, and an alloy slide allows it to be used with optics. The slide has front and rear cocking serrations, a fiber-optic front sight, and a removable fiber-optic rear sight on which Sig's Romeo Zero red-dot sight can be mounted for the ultimate in accuracy .22 LR Plinker. The barrel includes an adaptor for use with a suppressor and has a fluted chamber for increased reliability. The rimfire 322 reduces the cost of shooting while allowing you to shoot for longer periods of time. Sig even produced 25-round magazines that are sold separately.
20 Round Magazine Capacity
Optic Ready Removable Rear Sight Plate
Suppressor-Ready With Included Threaded Barrel Adapter
Interchangeable Trigger Shoes  (flat and curved included)
Fiber Optic Front and Rear Sights
Ambi Controls With Reversible Magazine Catch
Magazine Loader Included
Includes (2) 20rd magazines
The SIG Sauer P322 22 Long Rifle semi-automatic pistol is one of the company's hottest new products for 2022, representing a new approach to the field of rimfire pistols for sport shooting competition, training, plinking, and the introduction of first-time shooters and novices to the basics of marksmanship and safe firearms handling.
The P322 is SIG Sauer's first rimfire pistol to be entirely engineered and manufactured in SIG Sauer's own plant in Newington, (New Hampshire, USA). Other semi-automatic rimfire pistols based on the P226 and 1911 designs had previously been distributed under the SIG Sauer brand, but they were all manufactured in Germany under contract by a third party – specifically, the German Sport Guns company.
21 Reason to Love this Pistol
21-round capacity
25-round capacity with extended magazine
optic ready
threaded barrel
1913 rail
Made in the U.S.A.
Manual safety
SAO enclosed hammer
Ambi controls
Adjustable rear sight
Fiberoptic front sight
Flat/curved triggers
Two magazines included
Low-cost training
Easy takedown
Ergonomic design
Stainless steel frame
Aluminum slide
Cocking serrations
Integrated magwell
Magazine loader included
The SIG Sauer P322 is similar to the P320 in many ways, though with a more streamlined design and an internal hammer rather than a striker-fired system, but it is still familiar enough for P320 owners and shooters to quickly adapt to.
The SIG Sauer P322 is built around a polymer frame with an inner steel structure, with a MIL-STD 1913 Picatinny rail for accessories integrated on the dust cover; the 102 mm / 4 in. barrel; and the 102 mm / 4 in "The barrel is made of carbon steel, while the slide is made of alloy and hard-coat anodized in black.
With a length of 178 mm / 7 in "The SIG Sauer P322 is a compact, albeit a hot one, handgun with a crisp single-action only trigger that makes this funny, sturdily built handgun a very quick shooter, measuring just 484 grams / 17.1 oz. when empty.
The SIG Sauer P322 is also completely ambidextrous: the frame-mounted manual safety and slide stop release levers are located on both sides, and the magazine catch button can be reversed for left-handed or right-handed users upon field-strip. The only control found on one side is the takedown lever.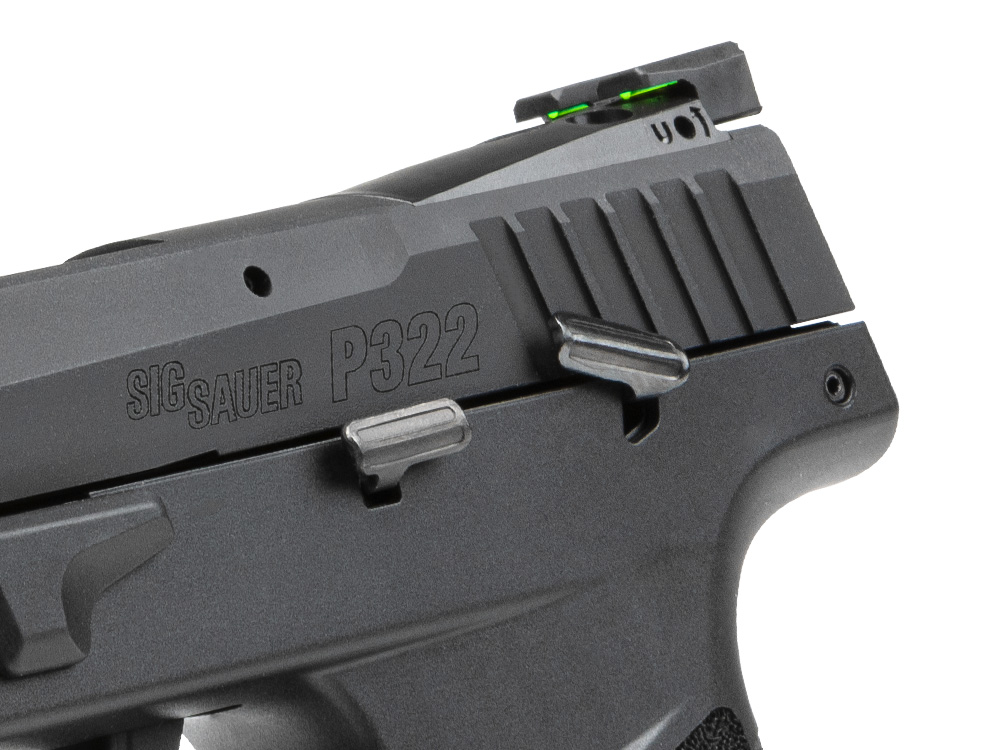 SIG Sauer's new P322 pistol feeds from proprietary polymer high capacity mags, two of which are included with each pistol, for a total of 20 rounds.
Each magazine holds 22 rounds of Long Rifle ammunition, with the option of carrying an extra round in the chamber. SIG Sauer also sells 25-round magazines separately as aftermarket accessories.
The quick trigger shoe interchangeability system distinguishes the SIG Sauer P322 in its reference market. Each P322 is shipped with two trigger shoes – curved and flat-face – allowing users to switch between the two styles by simply removing the trigger shoe from the trigger guard and replacing it with another. There's no need to field-strip the gun!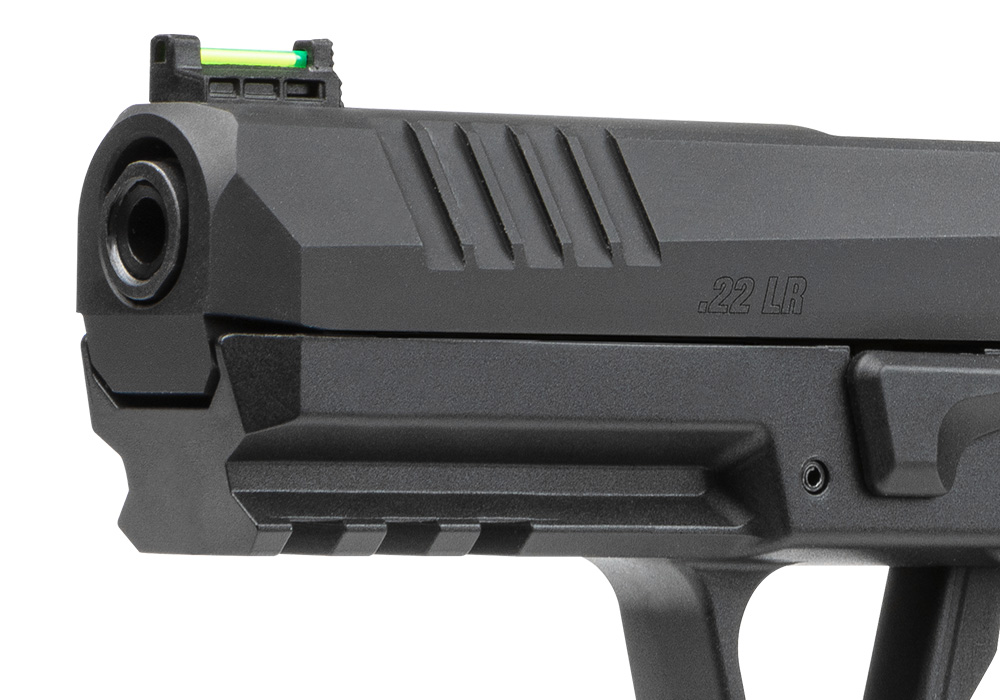 The SIG Sauer P322 is also loaded with desirable, highly desired features that are now standard on centerfire service, defense, and competition shooting handguns, and are becoming increasingly popular in the latest generations of rimfire training and plinking handguns.
A protected muzzle thread allows the use of barrel weights, muzzle compensators, muzzle brakes, or sound suppressors (where legal) without the need for an adapter or a new barrel; and an optics-ready slide with a removable rear sight plate and a modular interface for small-sized red dot or reflex sights.
The slide of the SIG Sauer P322 pistol is streamlined on both sides to make drawing and holstering easier and faster, and it has a good set of front and rear slide serrations.
The SIG Sauer P322 is equipped with factory-installed iron sights – fixed front post, adjustable low-profile rear – with high-visibility green fiber optic inserts.
The P322 pistol is SIG Sauer's entry into the growing modern rimfire pistol market, which is currently dominated by well-known, high-quality handguns such as the FN 502, Glock 44, and Taurus TX-22 Competition.
With the P322, SIG Sauer takes on the competition head-on, especially in terms of price. SIG Sauer does not generally announce a manufacturer's suggested retail price, but the P322 appears to be set at around $400 for the US market.